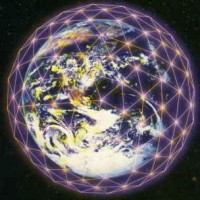 Here are some updates on the global situation. As of late, there's a lot more involvement from other Light-based planets as we're gaining momentum towards ascension. With the trouble the Galactic Federation went through, they sent 515 battleships to surround our planet and help stabilize the grid. That was about 2 months ago.
Now, we started synchronizing the core of our planet into other planets: Andromedia (vibration 8600), an Orion planet (vibration 15000), and an elemental planet in Sirius (vibration 12000), to start harmonizing our energy with other civilizations in the cosmos, and to offload the crazy energetic pressure onto very stable planets. Furthermore, each anchor planet is further stabilized by 3 to 10 planets, forming a huge stabilizing network for our planet.
3 Orion ships also entered in orbit for the first time. One has a vibration of 97 billion, 12D technology built in 37000 densities. Absolutely beautiful! Among the deadliest things in this Universe though. It's name translates to "Destroyer and Birther of Planets", with 37 destroyed planets and 108 constructed planets under its belt. The Zetas challenged it; it destroyed 1 Zeta ship and fused 6 others together. The Zetas calmed down. This ship installed a physical stabilizing grid around our planet and is working on the collective memory complex, with approval of the counsels. It will be active for the coming months.
Now, the Cabal has been ultra-offensive lately and the vibration of California has been at -95 billion lately. 53% of the population of California is headed towards …Read More