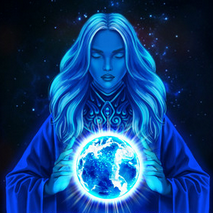 We just crossed a major milestone: Pistis Sophia went down last night. Her threat level dropped below 1 million %, and now sits at about 58%. Max annoyance level within 1000 years is around 100K %. Let's hope those numbers are real this time!
Still, depression problems remain, food problems remain, and communication problems remain. I believe Baphomet is mostly responsible for it.
Just 3 mega-souls represent 49.3% of men and 66.5% of women on Earth! Let's look at the status of the mega-souls.
When you know one, you know them all. They all share the same shadows, behaviors and patterns.
Red / White balance represents the Red Light of Creation vs White Light of Oneness. Balancing Red/White and Masculine/Feminine is extremely important. All wars come from these going off-balance, which cause pendulum swings.
Pistis Sophia
Represents 3.4% of men and 8.6% of women
14.7% Dark (14.7% solid) / 13.5% Light (1.5% solid)
95.4% Red / 4.6% White above, 97.2% Red / 2.8% White below
94.7% Masculine / 5.3% Feminine above, 95.2% Masculine / 4.8% Feminine below
Threat: 56.8%
Threat in 1 month: 15.1%
Max annoyance within 1000 years: 97K %
Health above / below
Mind: 3.5% / 0.2%
Heart: 0.5% / 0.13%
Emotions: 0.7% / 0.15%
Sex: 0.3% / 0.12%
Soul: 0.14% / 0.07%
Spirit: 1.3% / 0.8%
Lucifer
Represents 32.4% of men and 23.2% of women
25.3% Dark (13.5% solid) / 27.2% Light (25.1% solid)
95.3% Red / 4.7% White above, 94.7% Red / 5.3% White below
94.7% Masculine / 5.3% Feminine above, 95.3% Masculine / 4.7% Feminine below
Threat: 25.3%
Threat in 1 month: 14.2%
Max annoyance within 1000 years: 817 digits % ***
Health
Mind: …Read More