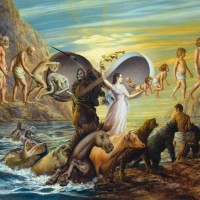 I haven't written much lately. I felt like everything that had to be said had already been said. Plus, I've been taking some time off while letting the chaos unfold and keeping my energy clear while moving through an energy deadlock.
First, the good news: the Cabal is just about dead. 85% of their remaining forces are in China, and they'll get wiped out of there just as soon as things heat up. There are very powerful psychic forces well established into that area that has been the main superpower for most of history except in recent years. The Cabal now controls none of the 3 major armies.
Now, I want to talk about the energetic deadlock, the state of the world, and where things are heading. Spirituality and consciousness has been in a complete deadlock for over 2 years. The way it is evolving, everybody is falling back stronger onto their beliefs, and the people, even spiritual people, would rather die than wake up. California is generally a good indication of where the rest of Canada and USA are heading, and the consciousness is heading into very bad directions.
So, who are on both sides of the energetic deadlock? On one side, you have all those who are bridging Heaven and Earth, but not those who are bringing Heaven principles into their Earthly paradigms. Behind those are all the psychic and heavenly forces assisting the planet in the transition, and massive waves of high-vibration energies bombarding the planet, and behind those, God, …Read More