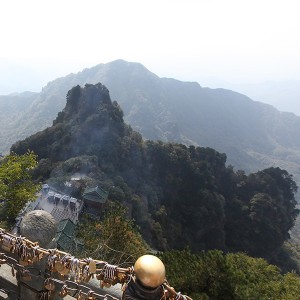 After 5 months in Wudangshan in China, I finally left China at the end of January. I went through several waves of heavy attacks trying to interfere with my move out of China. 2 big waves of attacks from the Afghartians (Dark Elves) and also a round of attack from Daoist Immortals. Plus 2 agents were detected waiting for me at the boarding gate with mind swipe devices, and I couldn't board that flight because I hadn't purchased check-in luggage before boarding (could have purchased it during online check-in but was without internet the whole week). Had to purchase another flight the next day, which was the last of my visa. Then China has been known lately to arrest Canadians for any reasons, real or fabricated, and even to issue exit bans.
I was waiting to be out of the country before writing about it for safety reasons. Made it out safely. 3 weeks later, still haven't written the field report. Time to do it now.
Many people in the West are scared of the growing influence
of China. Considering it has been the most powerful nation on the planet for
most of history, and considering my deep past lives background in China, I gave
it the benefit of the doubt. After spending 5 months there, I have to say…
what I saw in China really scared me.
As of right now, China is surrounded by tall golden energetic walls to protect the rest of the world from their insanity. There are lots of Immortal beings living …Read More