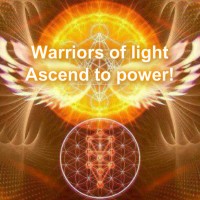 We're just about to launch our first ever group training program. It will allow you to get tremendous transformational value during a full year at a fraction of the cost. However, it is limited to only 16 people because we'll be doing a lot of direct energy work and I have to be able to work on each person individually and track your progress.
The program is called Year of Enlightenment. It is a year-long commitment to live at your highest, to integrate regular healing practices into your lifestyle and to be in a track of continual exponential growth. Enlightenment is not a destination, it is a path, and real magic happens when you follow that path for an extended period of time.
During this group trainings, we will go through the healings and meditations I've been doing with 1-on-1 clients to
– Clean up your energy field and get out of repression
– Live a lifestyle you truly love
– Step into your power and live a bigger life
– Make money doing what's most aligned with your soul
While the Force of Life Monthly Training is more theoretical, the Year of Enlightenment will be very experiential. I will teach you powerful energy healing techniques and we will apply them in groups. You will also get assignments to do on your own during the month, as well as a community to support you along the way.
The Year of Enlightenment program includes
– 1 group call per month for 12 months + recordings. …Read More