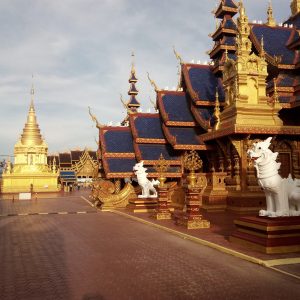 Leaving from Chiang Mai, visiting Chae Son, Lampang, Ngao, Phrae, Uttaradit, Sikirit Dam, back to Uttaradit, Sukhothai, and back to Chiang Mai.
I'm just back form my road trip in Northern Thailand, and it has been stunningly beautiful. I posted the pictures on Instagram @etiennecharland (pictures of July 2019). Many of the places had no tourists at all, and even less foreigners, and it has overall been extremely inexpensive. It took a bit of planning, and now that this route has been planned and set, I wanted to share it. I would call this a 12-day pilgrimage into the Kingdom of Siam.
To be honest, I hadn't traveled like this for a long time. I used to have Let's Go travel books, but it's bulky to carry and they don't update it anymore so it's outdated. Lonely Planet is still updated but to me it more feels like an index of hotels and restaurants, and doesn't say so much about what to do or where to go, especially the non-commercial places. Trip Advisor also isn't great at listing non-commercial places but it does have a list of top attractions. In looking for a solution to plan travels, I came up with this strategy.
How to plan: first, I looked on TripAdvisor for the top places to go in each province. Then, I checked those spots on the map with Google Maps, drew a line to visit them in sequence, and looked on the map for anything else of interest along the …Read More