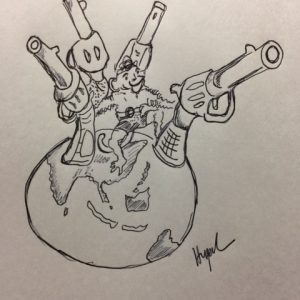 What a year! We've been battling my shadow for months, Dark Sophia for months, Dark Lucifer for months, and then Thoth for months. I am pleased to announce that Thoth is officially dead across all timelines. On the exact same day as the Ukraine war escalated. Curious timing. There remains just a few tiny fragments roaming around, to keep a watch on. I get the bragging rights for killing Thoth, who was WAY above my level. It's like playing a computer game and killing the lvl89 boss with a lvl25 character.
There remains my shadow (Satan), Lucifer's shadow, and Sophia's shadow to clear across all timelines. I worked the whole week to clear Sophia's shadow on all levels, which is further causing a massive collapse of dark forces. I'm now working on my shadow below ground, as 85% of the aggressive energies in Mexico are my own soul energy.
This collapse of dark forces is causing timelines to collapse and merge, healing the timeline fragmentation. This means that you'll be facing weird shadow versions of yourself merging with you, and it's a fight for survival as to which version of yourself will survive. Many people are struggling with this. Honestly, the best support to deal with those merging timelines is to have stable anchor points with Juggernauts. Other than that we're all on our own path. We had 48 billion timelines. It's now at 200 million timelines. We'll have 565000 timelines left within 2 months. Fasten your seat-belt.
My coaching practice is also …Read More