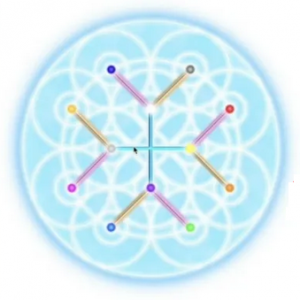 We're finally making some great progress that may very well be our path to redemption.
First, we've been getting a lot of attacks and interference from the Pleiadians lately. Second, I saw this video that explains the vampiric nature of the Metatronic grid, and invites people to instead connect to another Krystic Grid. Metatronic grid vibrates at 480, Krystic grid at 800. That video has 60K views. Third, we've been getting attacks from silver beings lately shooting with snipers.
I got my team together and we investigated all that. Doing missions in teams of 2 to 4 skilled people is where the game is at, to look at things from various perspectives at once. It allows us to go at least 10x deeper.
The guy who produced the video was standing in a castle in the Krystic grid. He did not create it. He got there just like us, established his presence there, and tried to figure out what to do with it. There's only so much you can do on your own.
The video had tons of veils. After clearing them, I measure about 32.4% accuracy only. The castle has lots of veil generators, stolen technology from Dark Sophia. It contains a lot of stolen technologies.
The Pleiadians are deeply connected into that Krystic grid. The silver beings also live there. They're just seeing us appearing in their fields and they attack anything that comes nearby. Various people established their presence into that …Read More