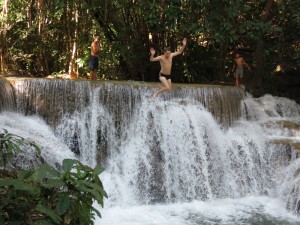 For those who missed it, what happened at the Chiang Mai event on June 16-17th? It definitely was a different experience than the Mexico event in December where several of my most advanced students where there and Atman showed up with his magic. This time, 3 people made it to Thailand: 2 from Sweden and 1 from Trinidad y Tobago (3 days of travels to get here!!)
The energy on the first morning was extremely heavy. There was a *lot* of stuff to clean up. One was new to all this and was carrying a whole lot of anger and negative stuff, one was carrying a whole lot of baggage and stories, and one had his chakras completely fractured and pulverized. This event was definitely life-changing, and we've been working on releasing a *whole lot* of baggage!! Kind of healing 6000 years worth of pains in 2 days.
While at the last event, great powers where awakening right away I would basically sit back and let them work on each other, this time it was very draining for myself. I've given a whole lot of energy. Like using massive lightning bolts to fuse chakras back together and jumping around the room with the intensity of the bolts.
Here are the testimonials from Andreas and Maria. I further improved the quality of the videos with my video encoding magic.
Here's the message I got afterwards. The awakening of memories and powers is happening anyway for everybody at the pace that they are ready to take it. Thus, just trying to force that open at the event would have been pointless. What is most important is to create a better container to receive all that is coming. And that's what happened at the event.
Creating better containers for the light.
Etienne Charland, Emergence Guardian
>> Here's how you can amplify 1000x the healing power of crystals