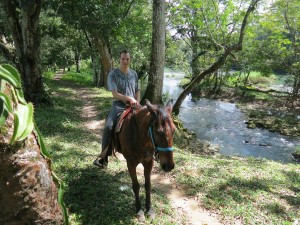 Let's talk about lifestyle design. I just had a fabulous week of "vacation" in Belize. I went horseback riding in the mountains of Belize up so some gorgeous Mayan ruins, visited one of the most gorgeous caves in the world with untouched remains of human sacrifices and skeletons, went diving and before even starting to dive, ended up swimming with a dozen dolphins who stayed with us for 20 minutes in the wild open ocean, swimming as close as a meter away! On top of all that, I did in a week the energy work that would otherwise have taken me 4 months, built several business relationships, and I might end up being able to provide you the highest quality morinda on the planet, grown in an organic farm in Belize free from air polution. Morinda is an extremely nutritious healing plant that originally came from India and is getting increasingly known in Latin America. I still have to see whether it should invest time building this or not. I wish all my weeks were that productive!
The quality of some of the sights in Belize really are understated. When going to the ATM cave near San Ignacio, I was expecting something similar to other caves I visited before. Not even close. They said we would get "wet", but forgot to mention we literally had to swim in the river within the cave a few times, squeezing our neck between rocks along the way! It was way more adventurous, and gorgeous, than I expected. They were doing human sacrifices within that cave, and almost everything remained untouched except 3% of artifacts that were taken away and a few incidents. No wooden bridges and lighted concrete paths. The real deal. Stones are powerful tools for healing. Being surrounded by immense stones is even better for energy work.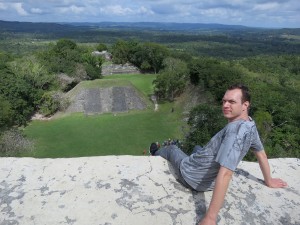 Then I ended staying in an organic farm and stables near the Guatemala border. The area was very quiet and grounded, perfect for a computer detox! This environment was perfect to clear out what was clogging my energy field. The farm was estimated in 1999 at 6 million dollars! Absolutely gorgeous. So was the ride with the horse. Their animals kept winning competitions and I think I figured out why: they feed them with morinda plants!
Santiago, the owner of the farm, is an international specialist in organic farming. We spend time talking about a bunch of things. He shared a few interesting points.
First, if I want to grow fruits and vegetables in Playa del Carmen, the best way is to go to the beach and pick up piles of seaweed, then lay out 3 feet of seaweed on the land and wait 4 months. I would then have the best quality soil!
Second, he made a good point that according to Western Media, Central American people are bad people, Russians are bad people, Muslims are bad people and Chinese are bad people. The United States isn't the biggest economic power anymore, and what they're doing is isolating themselves from foreign investors. I can personally testify that these people up in the mountains of Belize are good and friendly people.
Third, we don't need chemicals to protect plants from insects and diseases. If the crops get lost, so be it. But the truth is, plants aren't all that different from our physical bodies. If you have good quality soil, good water and good energies, the plant's immune system will be strong and the plants will remain healthy. If you burn the soil and give them tons of chemicals, then the plants' immune system will be weak. It comes down to the exact same debate as pharmaceutical drugs vs natural cures.
Santiago planted tons of morinda on his land and would like to sell it online. Morinda is one of the most nutritive healing plants on the planet which can be mixed as powder with your food or drinks. This is pure morinda from a 100-year-old organic farm in the mountains of Belize, free from air pollution. I could even raise the frequency of the morinda to 600 or even 900 to increase its potency. We could safely claim to have the highest quality morinda in the world. He doesn't want anything to do with online stuff, and I don't want anything to do with products and shipping. Working together would work very well as I could duplicate my business structure so that he establishes his credibility in the field of organic farming by sharing his extensive knowledge. I just have to see whether it would be a good investment of my time as the benefits of morinda seem to still be totally unknown to the West. Searching in Google, there is absolutely nothing for "buy morinda", but you can still find whole lists of benefits of morinda.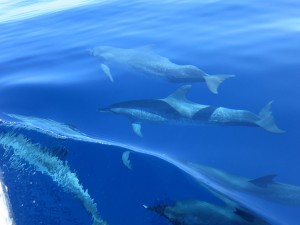 Then I went diving on the island of Caye Caulker. Gorgeous island with crystal clear emerald water, and the waters were calm like a mirror that day. Swimming with a dozen dolphins just feels amazing and I could hear their sonar. Normally they always leave so we got very lucky. Dolphins are very sensitive to your emotional state so if you're stressed and stuck in your head, they'll see a black head and swim away. If your heart is open, they'll like you. We we 3 people in the water surrounded by a dozen dolphins! Later while diving, we also saw 4 sharks and 3 more dolphins.
It really was a fabulous week. Oh, and I just got offered by the World Information Network a position as a Regional Director.
Meanwhile, how was *your* week?
By the way, there is still time to join our inner circle group in the Year of Enlightenment program. Just get an Energy Tune-Up and then we'll talk to see whether this program is the best fit for your needs.
Etienne Charland, Emergence Guardian
>> Here's how you can amplify 1000x the healing power of crystals