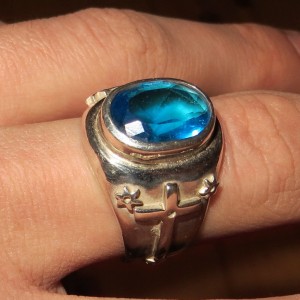 I woke up with this email in my inbox in regards to Crystals Activation:
"You can assume the quick re-order is because of the results of working with the first batch you activated. I am very very pleased with the last 72 hours or so, thank you for making the effort to talk about crystal activation." -Mike (Canada)
Then another person posted this on Facebook:
"Anyone who hasn't had their crystals activated really should do so as soon as possible. The energies are accelerating at an exponential rate. Even with a bevvy of fully-attuned crystals and one-on-one training, it's a wild ride these days. Without that energetic support it's downright dangerous." -Rhett (USA)
A detail I want to clarify. To attune crystals, if you have 3 stones of the same type, you can count it as 1 because it's just the same to attune 1 big one or 3 small ones. Also a bracelet with 10 beads won't count as 10 crystals but as 1. Often there's also the silver attached to a stone and I attune it but don't count it. So it's 1 per stone type or per piece of jewelry.
Here's another testimonial I had some time ago:
"Ok and today i woke up with a buzzing vibrational physical feeling inside my head, its like a bee doing a sound, and also I started to see visionary type of images when i first wear them first night. And my experience these 4 days wearing crystals is, at first after i wear them i have like very calming and peaceful grounded effect on me, usually I'm very hyper reactive and participating in family arguments and doing weird stuff. Like I have a multiple personality with my parents. Also I'm not fully functional in my life from many years, since I started wearing them I'm sleeping very deeply and also i can wake up with good energy, but before that I had very hard time waking up I feel pain and also when I try to get up I have a feeling like some one is pinning me down heavily, and also sleeping cycles reversed from 2 decades slowly I'm becoming normal. I also started to take massive action now, before that I just sat in front of my computer hoping some one buys my stuff, I just had no interest in eating or sleeping or taking bath. And people-wise I see greater respect and helping kind of energy towards me. Before that wherever I go its a misunderstanding or argument kind of relationship. First day I wear these crystals I go a business block after that now I feel like this online business I'm doing is not serving me well so now I feel like i have to get a good job to get better life. These are few things I observed and its like i think these crystals have a very powerful healing effect in all areas of life." -Rupesh (India)
>> Get your crystals activated now
Etienne Charland, Emergence Guardian
>> Here's how you can amplify 1000x the healing power of crystals