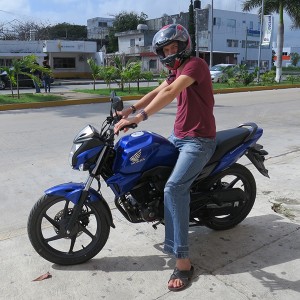 First, make sure to attend the FREE Live Conference on How YOU Can Thrive In a Context of Planetary Transition tomorrow December 27th! Click here to join.
I've been talking for nearly a year about buying a motorbike. I finally did it! Most people here in Mexico have Italika motorbike. They're cheap and look good; but they break down within 2 years. I wanted a Honda Invicta 150cc. In Playa del Carmen, they had *1* in stock but it was black and I wanted the red one. In Cancun, they had *1* left in stock… Blue Special Edition. I said it's mine and went to pick it up. As I got there, someone was sitting on it and was highly interested and I was thinking "get off, it's mine!", and the sales agent I spoke with on the phone looked at me, gave him a business card and said "call me if you're interested". Then I bought it 🙂
And here's the funny thing. The pesos is very weak (14.7 per USD instead of 12-13) which makes it cheaper. They have a promotion for the holidays where they gave me 1500 pesos of extra stuff with it, so I got 3 helmets and half a spark plug for free. And… they had just started another promotion so I got 32 tickets for a draw. If I'm lucky, I could win 10 extra motorbikes! The timing is perfect with the currency being low and with 2 promotions overlapping, and with them having exactly what I need.
Life is so much easier when things align themselves ahead of you. But sometimes you also have to break through obstacles to get there.
I bought the motorbike on the 23rd, went to pick it up the next morning and drove back slowly at 45km/h for 2 hours to bring it back to Playa del Carmen. On the 24th, LOTS of energies opened up. Then on the 25th… tons of energies fell down on me like an avalanche and I've been in bed all day. You can expect huge changes to unfold in the Californian Spirituality culture/aggregate in the coming weeks. Today I'm recovering, rebooting my nervous system. Getting ready for the live conference tomorrow! (and for those who purchased an Energy Tune-Up this week, sorry for the delays, I'll get back to you)
The vibration of the planet is at its highest during Christmas as everybody is in a higher mood all at once. This allows for deeper transformations to unfold on a planetary level.
When it comes to material things, I believe people go through 3 phases of evolution.
First, they seek happiness in money, sex, stuff, business, relationships, or anything else external. It is very common for people to seek the perfect relationship to fill the void they have within; but unfortunately that's sure recipe for disappointment. This phase is society-driven and they don't really think on their own.
Second, they realize that none of this stuff is truly making them happy, even if they get to the top or find their soul-mate or "twin-flame". They then start looking inward for happiness and put less and less importance on all the physical stuff. This phase is fueled by a desire to avoid the pain of the first phase.
Third, they realize that life is meant to be lived fully and that happiness is meant to be lived and shared. The physical environment then has to reflect that inner richness and fullness in every area: relationships, work, wealth, purpose, lifestyle and… motorbike! The difference here is that the material possessions are a reflection of the inner fullness instead of being used to fill a void. This phase is truly soul-driven.
Enough for now, talk tomorrow!
P.S. They told me to drive very slowly for the first month
Oh, and here's the testimonial from my first VIP day. I have VIP Day spots open for January 6th and January 21st at $3k instead of $5k afterwards. Message me privately if interested.
Etienne Charland, Emergence Guardian
>> Here's how you can amplify 1000x the healing power of crystals