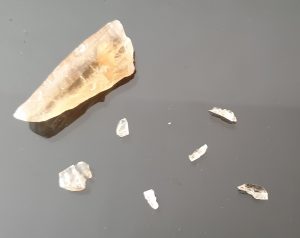 Video production has been taking longer than expected, and here's the next Journey to the World video. We recovered more relics in Tulum. This video is from 2 months ago. This one is quite intense. We went back later and recorded another video — **spoiler alert** next video after this will be hardcore.
What we now know is that these "relics" are fragments of Infinity Stones, and that they teleport around. It's actually related to my own chakras, so only I would be able to recover them (or a shadow fragment of mine…) Last week we went out to the park at 4:30am to recover… lost tiny fragment of yellow citrine that fits perfectly onto my citrine crystal?? The next day we found more yellow citrine fragments: in a rock wall on the avenue, by the woods around here, in the earth of a plant given to my daughter by the school, and… in a bag of fried plantain bananas?? You normally don't find this kind of stone around here in Mexico.
There are other types of relics that will need to be recovered that we still know very little about, that are even more important.
We're still dealing with crazy non-stop attacks and chaos but it should stabilize very soon. We've contained our shadows in huge furnaces to dissolve and integrate. We've pulled out the roots of the massive dysfunctions. Now we're pulling out the FUEL, conscious and subconscious. It can't keep going like that for long.
As for recovering the relics around the world, we've done enough progress so that it absolutely needs to be done but it's not urgent anymore. Travel restrictions haven't lifted yet, and we can wait for things to improve before going. This Covid agenda really can't hold on for long like that…
Now, I would need to buy a house in Mexico. Banks won't help me, so I'd have to come up with $150k cash. I've been over a full year out of business. The Journey to the World funding campaign went great ($27k), and that was pretty much my salary for the year. The funding campaign was doing great until the interview on Soulogy where everything jammed tight and I lost 90% of my left eyesight. My left eyesight is still only at 50%. Also, many people who donated got heavily targeted. On the flip-side, we intervene on several people who were in a critical state, and brought back some who had been replaced by non-humans, paying closer attention to those who participated in the campaign.
Still very few people understand and are following the Journey to the World videos, but in 10 or 20 years from now, a LOT of people will be ready to hear about the truth of what's been happening. I'm just doing my part, and other people can go at their own pace. I think it's important to document it.
If you recognize all the hard work we've been putting full-time into this the whole year, then you may want to contribute to the Journey to the World campaign. Don't worry about making it anonymous if you feel it's better.
I'll also soon start working with a few clients again, $30k and by invitation only. This will help come up with the needed money. First, we need to stabilize things around here as we've been swarmed by all those attacks and shadows. The high level of work that's required to deal with these threats is just not something that can be taught publicly at all.
What doesn't kill you makes you stronger, right?
> Watch the Journey to the World video here and donate here.
Etienne Charland, Emergence Guardian
>> Here's how you can amplify 1000x the healing power of crystals