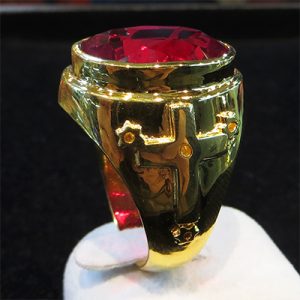 The 3rd hand-crafted ring is ready: 18g of 22-carat gold with a 24-carat ruby. My own Master Alchemist ring looks like a baby in comparison to this. That's a $3000 ring that went for only $1870. (This ring model is only available for those learning high-level Alchemy 1-on-1 with me)
You can see some of the other custom-crafted rings here. They're absolutely gorgeous. And underpriced. This is OK for launch as we'll build a nice collection of custom hand-crafted rings, and after January 1st, crafting prices will go up 20%.
Also, all large 20-carat gems on copper base are 20% OFF! Silver-crafting is not required with those, so you can get your own Alchemy ring for as low as $104 for Yellow Topaz and $136 for 20-carat Amethyst. Or, you can get a natural 8-11ct Garnet, natural 19-27ct Amethyst, or even a natural aquamarine crafted on a gold or white gold ring with your own favorite design.
Rings are available at all price ranges based on your taste and budget (and gender).
Christmas is coming soon! A pink sapphire ring would make a gorgeous gift for your girlfriend, or a red garnet ring would make a gorgeous gift for your boyfriend. This is an uncommon and hard-to-find gift that is sure to make everyone smile. It takes about a week for crafting and 5 days for shipping via DHL, so you can get it for Christmas but it has to be done now.
In addition, the Winter Solstice on December 21st always …Read More