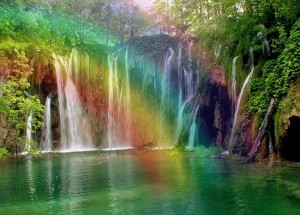 After the email I sent out asking whether there would be interest in a group program to learn how to do the energy work that I do in a group setting at a much lower investment point than working 1-on-1 ($200/month), about a dozen people responded with their interest. So here it is, after originally launching the Year of Enlightenment 3 years ago, I'm doing it again.
This is a limited-time opportunity. I've only launched this program 3 years ago and once started, you won't be able to join. You have a 1-month window of opportunity to get on-board for the year.
As a note, after changing my prices from $197 to $200, the very next day, I saw someone who wrote on Facebook that pricing with 97$ or .99$ is drawing people who are stupid enough to think the $3 or 1¢ difference is going to make a difference in their budget, and it creates a relationship with this "implied stupidity". The title of his article was "how to attract smart people". It perfectly reflects what I've been feeling about it, and I immediately felt a huge relief after changing the prices to a flat $200. It might result in less sales, but will attract smarter people, and overall create better relationships. As for full payments, instead of discounting the price, I decided to give juicy bonuses. I'll also note that personally, for energetic reasons, monthly payments are more useful, for reasons that I'll probably explain in those calls.
>> Join the Year of Enlightenment here!
As a side note, my first interview with James Rink on Super Soldier Talk got 4215 views (2 hours long) with 89% approval rating. Things are escalating right now exactly as and when I predicted in that interview. This will build some credibility for the second interview coming up soon. I have *lot* to talk about.
Most are now realizing that chaos is coming our way. Things are actually getting a lot more stable and are opening up from my side. The Year of Enlightenment program is to allow you to navigate through the chaos with strength and focus, and to lead the new energies forward instead of being swept off by the emerging waves of new energies. Most every spiritual person has different beliefs and different values, and as I've said before, at this point, your personal beliefs won't change much to what's coming. All that it will change is your personal relationship to the emerging energies and your experience through that transition. If you understand what I mean, then this program is probably for you.
>> Join the Year of Enlightenment here!
You have only until April 8th 2017 to join.
Etienne Charland, Emergence Guardian
>> Here's how you can amplify 1000x the healing power of crystals